La Cascade
A beaufiful new B&B in Northern France, including a restaurant, bar and fly fishing lake. A perfect hideaway place, either to relax, or to go for walks or to take on other activities
ABOUT US
La Cascade has been carefully and extensively refurbished and extended to create a high quality Restaurant, Bar, Fly Fishery and Detox and Relaxation Retreat with 5 double B & B Bedrooms and two Gites.
Set in the beautiful and peaceful Canche Valley in Northern France, we are only 75 minutes from Calais, ideal for midweek or weekend breaks.
The small market towns of Avesnes-Le-Comte, Saint-Pol-Sur-Ternoise and Frevent are within easy reach.
The beautiful city of Arras is about 30 minutes away, Amiens about 40 minutes while Lille is about 50 minutes.
We are also close to many WWI sites.
BEDROOMS
There are 4 refurbished and comfortable double bedrooms on the First Floor and all are en-suite. Twin beds can also be arranged. The Ground Floor bedroom is suitable for wheelchair users where a double or a twin bed can also be arranged. There are also two gites which can accommodate 2 adults+2 children or 3 adults each. Kettle, coffee, tea, biscuits and TV (French and English (terrestrial and sky)) are provided in each bedroom and the gite.
RESTAURANT
Overlooking the lake and terrace, our refurbished and spacious restaurant provides a relaxing and comfortable atmosphere.
The quality of our food is at the heart of La Cascade, offering French cuisine with spices, flavor, textures and colors. Our chef sources ingredients and produce from local suppliers.
The restaurant adjoins our large terrace where meals can be eaten "Al Fresco" in good weather.
You can find an example of a Lunch and Dinner/ Weekend Menu below on our Facebook Page.
BAR
Our cosy and comfortable bar area is available for an aperitif prior to your meal or for a convivial drink with family and friends. In good weather, these can be taken on the large terrace next to our lake.
In the colder months, our large wood burning fire will keep you warm.
We offer a large selection of Draft and Bottled Beers (Lager, IPA, Stout…), wine and spirits as well as fresh and hot beverages and an assortment of nibbles to enjoy.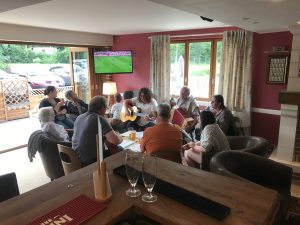 La Cascade has a lot to offer. From the tranquil setting to bed and beautiful breakfast, to lunch and evening meals cooked to a high restaurant standard. It's over an hours drive from Calais, the location is great for fishing, cycling, walking or simply recharging. I loved it.
Suzie Curtis La Cascade has a lot to offer
Excellent. The food was great and the waiter charming. The bar has up to date copies of English Rugby magazines! Looking out over the lake was lovely and the bar/restaurant is very modern and clean. The loos were great too... love the wallpaper. Would definitely recommend.
Fran-Hazlewood Mosby Ossett, United Kingdom
Great weekend in an idyllic spot close to the coast, Arras and the Eurotunnel. Excellent cycling to be had - and some really really good food in the restaurant too 10/10
Ian Freshwater London, United Kingdom
What a great place to go for a weekend getaway from Paris! Amazing food, the pricing was so reasonable and it felt like home away from home!
Pip Bell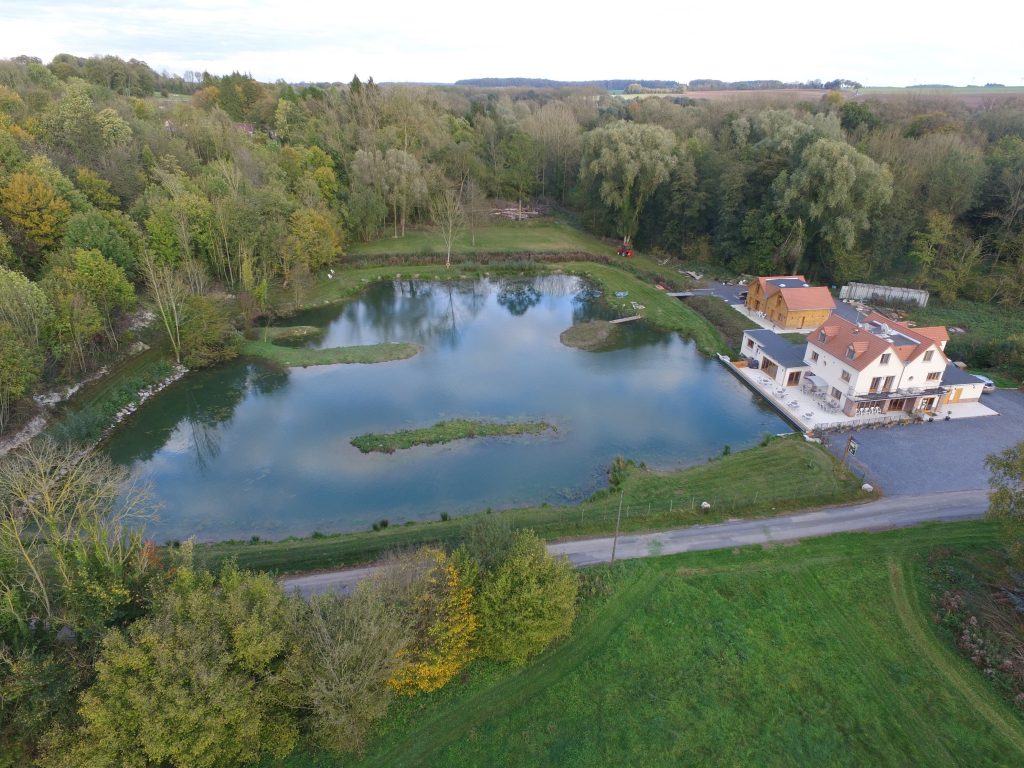 FLY FISHING LAKE
Our newly established still water fishery is for trout fishing with fly only.
The lake is approaching 1.5 acres and has crystal-clear water fed by 3 artesian wells and several springs. Its depth ranges from 1.5 to 3+ meters and it is stocked with mainly rainbows ranging from 2lbs to doubles. Some browns have also been stocked.
There is a comfortable clubroom with free tea and coffee for all anglers. There is also an outside terrace for use in good weather. A toilet and shower is adjacent to the clubroom. We intend to provide a disabled fishing platform at a later date.
THINGS TO DO
With our recently renovated barn retreat that can be used for various indoor activities (yoga, arts and crafts, etc…) and being in the heart of the French countryside, surrounded by many cycling and walking paths, we also offer a wide range of on site leisure activities.
Whether you're an individual or part of a corporate group, whether you prefer a fun and active break or you prefer to rest and relax at our peaceful getaway, our packages cater for all and can be tailor-made to suit your needs under four sub heading; Activities, Tours & Trips, Well Being and Detox Retreat and Hobbies:
Activities at La Cascade include:
Beginners introduction to fly fishing – introductory lesson to fly fishing taught by our qualified professional
Fly fishing – half or full day fly fishing on our peaceful spring-fed lake
Helicopter ride – enjoy a tour of the Northern French countryside in a helicopter ride with our professional partner Greg Helico and experience the luxury of being picked up and dropped off outside La Cascade.
Walking – trek around the French countryside, several routes departing from La Cascade.
Cycling / Mountain Biking – Cycle or Mountain Bike around the French countryside, several routes departing from La Cascade.
Canoeing – Depart from La Cascade down La Canche river that runs alongside our complex.
Car/Motorbike Rallies – Depart from La Cascade, several routes departing from La Cascade.
OPENING TIMES
Restaurant
Monday: Closed
Wednesday to Thursday: 12pm-2pm, Closed for dinner
Friday: 12pm-2pm, 7pm- 9pm
Saturday: 12pm-2pm, 7pm-9pm
Sunday: 12pm-2pm, 7pm-9pm (bar food options)
Bar
Monday: Closed
Tuesday to Thursday: 12pm-2pm
Friday: 12pm-2pm, 6pm- 12am
Saturday: 12pm-12am
Sunday: all day starting 12pm
Fly Fishery
Monday: Closed
Tuesday – Sunday: 9am-8pm
CONTACT
For bookings or inquiries about our rooms, the restaurant, the lake or for any other questions, please use the contact options below.
You can always use the online form as well.
This post is also available in: French